My parents arrived at 7:30pm on Thursday after a 7 hour coach journey. Why they take the coach and not the train is beyond me.
Our plan for the evening was to do nothing, I cooked two different crustless quiches with new potatoes and runner beans which turned out quite nicely.
Friday we were off to Arundel. Seeing as me & Keith have been living in Worthing for just over a year now we had never had the chance to go to Arundel. It's very hilly but a beautiful place to visit.

It was an extremely hot day, one of the hotest we have had into the 90s. This is England so we don't really get hot.
That evening we went out to eat at The Fish Factory where I had portabello wellington with mash potato, it was lovely.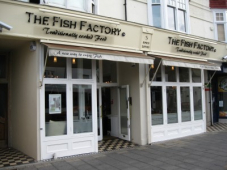 Saturday we spent some time on the see front looking around the food festival. I ended up getting a chicken burrito for lunch, I just have a thing for mexican/tex mex food. Me & Keith spent the afternoon indoors watching the F1 qualifying while my parents spent some time by the sea. That evening we went out to The Rose & Crown for dinner. My dad joked that he wanted his liver & bacon again so we went.
We decided to take a walk back along the sea front via a pub but it was closed due to a wedding reception, then the next one we went to looked busy with a reception also.  So we just took a slow walk home instead.
Sunday was another day at the food festival. I didn't get any food this time but me & Keith sampled some beers and traveled on an old bus. It was 100 years of the southdown bus company.
This is one of the reasons why I love living in Worthing. There is something going on most weekends, even if I don't go along. The next thing is the American Classic Car show at the end of July then The Birdman mid August where people dress up and jump of the pier!
Sunday evening I cooked a roast chicken with stuffing, then Monday morning it was good bye to the parents. They only just managed to get there 1st coach though. Their ticket said 9:30am and we got there at 9:13am (the stop is at the end of my road) and the driver was just getting ready to leave. Apparently the ticket should have said 9:15am! I think there may have been a mistake when/if they change from winter to summer timetable or something like that.  They also managed to miss the horrible bus crash that happened in Brighton.
---
Today's workout:
Bench press – 4×8 @ 20kg
Squat – 1×8 @ 20kg, 2×8 @  30kg
Kettlebell swings – 21 @ 8kg
BB OHP – 3×8 @ 15kg
Dips – 2×8 @ bw
I really need to look into core workouts to do alongside my main strength exercises. Today I think I spent more time sitting on the mat messing with my phone looking at fitness apps than actually doing exercises. I attempted jump squats (I did one) but felt embarrassed so stopped, the same with sit-ups, after just one I changed it to crunches instead. I don't know why I feel stupid doing some exercises, I know people aren't watching me & if they are then so what.
Tags:
arundel
,
buses
,
exercises
,
gym
,
parents
,
travel
,
visit